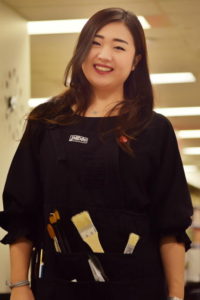 MONCTON, NB: International Fine Arts Artist, Futong Kang, partnered with Startup Moncton to raise funds for Greater Moncton entrepreneurs.
Kang, a Fine Arts and Design Major from Beijing Union University, China, solidified her skills in fine arts, drawing, painting, photography, printmaking, sculpture, and paper carving and digital media.
"My art is about the emotions and is inspired by nature and the elements in our surroundings," said Kang. "My desire is to provide art therapy workshops for individuals with severe anxiety and mental health challenges". Kang has long been an advocate of emotional healing through painting and creative expression.
As a Fine Arts teacher, her four years with Beijing Fangshan Vocational School China, solidified her passion for creative arts that she is now turning into a life-long career.
Presently, Kang is a student at Crandall University, Moncton, challenging her own boundaries in Fine Art and education.
'We are very grateful that Futong so generously partnered with Startup Moncton and was a part of our January 18 Launch," said Debbie Collins, Founder Startup Moncton. "Through her commitment to entrepreneurial startups, Futong raised $400".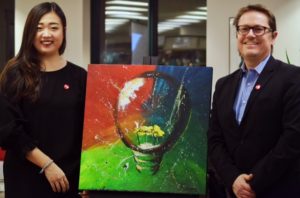 "Live painting" or "performance painting" can be planned or improvisational art where artists create a painting in real time in a public setting where guests can interact with the artist. Often, live painting is of a musical event, cultural event, corporate party, wedding, or some sort of gathering.
Along with live painting, Kang also does art commissions, portraits, animals, and landscape. Her art studio is at 168 Edgett Ave, Moncton
Her works can be viewed at futong.ca and Facebook/ Instagram: futongkang
 
Contacts:
Futong Kang
Studio Address: 168 Edgett Ave, Moncton, NB, E1C7B5
Tell: (506) 875-9082
Email: futongkang@gmail.com.
Web: futong.ca
Facebook/ Instagram: futongkang
Citizenship: Chinese
Debbie Collins
Startup Moncton Founder
506-381-5845
admin@startupmoncton.ca
Web: startupmoncton.ca