Dartmouth Lounge to be the First Cat Cafe in Atlantic Canada
Jan 12, 2018by Inda Intiar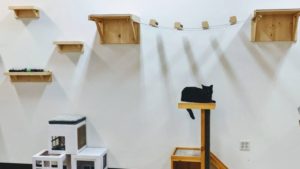 Lily Pad Cat Lounge's first cat, Violet, observing her surrounding. Image: Submitted.
DARTMOUTH – Jody Godin is turning her love for animals and desire to help solve the Halifax area's stray cat problem into a business. Visitors of Lily Pad Cat Lounge will be able to hang out with felines, have a coffee and see if they feel comfortable adopting one of them.
"I was always kind of thinking about it. I love kitties. And then [I saw] an article on Catfe in Vancouver," says Godin. "They had to close for about a week because they were so successful with their adoptions, they ran out of cats. Once I saw that I'm like, 'wow.' I really want to do this now. "
As a child, Godin dreamed of being a vet. But realizing she didn't have the heart to convey bad news, she studied business instead. Godin is now a commerce student at St. Mary's University.
"I always wanted to have my own business, but I was never really sure what to do," said Godin, who has three cats herself.
Now, Godin is set to open Atlantic Canada's first cat cafe, a concept popular around the world and across Canada. However, Lily Pad won't be a full-service cafe because of food safety laws in Nova Scotia.
"If it's a successful business model or if I think adding that component would make it more successful, then maybe down the road I can eventually look at trying to fight changing the rules more," she said.
Jody Godin, owner of Lily Pad Cat Lounge. Image: Submitted.
For now, visitors will be able to buy Keurig coffee, cold drinks and pre-packaged snacks at the storefront on Portland Street. They can also buy cat toys and supplies there.
Visitors can then pay between $7 and $8 per hour to enter the lounge area, where they can eat their snacks and play with the cats. Godin aims to have 10 cats at a time.
"We can probably get more than that, but after you get that many cats it can be really tricky to keep the synergy going between all of them properly," she said.
The cats, supplied by the local SPCA, will have a room in the back to relax and use the litter box. Visitors who want to adopt the cats can do so through Godin, who will help handle the process and collect the adoption fees. All the fees will then be handed to the SPCA.
Violet, Lily Pads first resident cat. Image: Submitted.
"The great thing about the lounge is that the cats aren't stuck in cages all day," she said. "So, at least in the lounge, they get to kind of be themselves. You get to see cats that are comfortable with other cats when say, you already have a cat at home. Say you're looking for a cat that would do better by itself, then that's a really good opportunity than when you go to the SPCA."
Robert Leigh, the owner of Moncton's Panther Perches, made 19 pieces of furniture for Lily Pad. This included shelves, rope ladders and coat racks.
The Englishman started building pine-based cat furniture when he couldn't find ones strong enough for his 23 lbs cat. Leigh thinks the cat lounge is a great idea.
"I think the concept is brilliant," he said. "You can form a relationship with [the cats] first, because they all have different personalities."
Godin is wrapping up renovations of the shop and plans to open the lounge to the public later this month.
FacebookTwitterLinkedInEmail