News
Entrepreneurs Launch Startup Canada Community in Moncton
Jan 12, 2018by Inda Intiar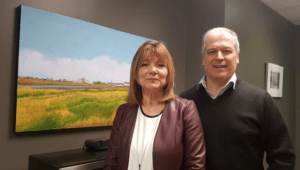 Debbie Collins, Startup Moncton founder and Dale Ritchie, one of the entrepreneurs involved. Image: Huddle/Inda Intiar
MONCTON – Entrepreneurs in the greater Moncton area will have their own Startup Canada community. Debbie Collins, founder of Startup Support Plus, is launching Startup Moncton four months after the city was welcomed to the national network.
"We were looking at [launching in] November, and then we decided let's make it January so we know we're ready," Collins said.
"I think we want to make sure that we had a good group before our launch and it wasn't just one or two people doing everything and have our name out there a little bit."
Startup Moncton is an entrepreneur-led non-profit movement that seeks to bring together business people and community stakeholders in the tri-community area. It joins more than over 50 Startup Canada Communities across nine provinces and one territory.
Startup Moncton now has about 20 entrepreneurs and 11 partners backing it, including Opportunities NB, 3+ Corporation and the Greater Moncton Chamber of Commerce. The entrepreneurs that are part of Startup Moncton's team are all volunteers.
"Now that we have enough people, we're trying to structure ourselves with committees and what we're gonna do and get a calendar for the year," Collins said.
Startup Moncton wants to be the one-stop shop for entrepreneurs to find resources and network.
"Our plan is to give people access to resources, like minds, in terms of starting a business and wanting to make a difference," said Dale Ritchie, one of the entrepreneurs on the team. "And also access to learning things and programs that are already out there."
Ritchie, the president of McKenzie College, has been a businessman for decades. He said many organizations are providing support for those seeking to start a business. Startup Moncton wants to do the same.
"You almost see a groundswell [of support] for startups because it's not easy," he said.
"It's lonely being an entrepreneur and it's not easy, so you need to have other people that you can relate to, to talk about the problems and issues that you face. You need that support," Ritchie said.
However, Collins said Startup Moncton won't be duplicating services already offered by its partners.
"We want to look for the gap. So, if one of the entrepreneurs say they need more training in business plans, then we'll look at our partners to see what they do. And if nobody's doing it, that's when we'll say, do they want to do it? do they want us to do it? We can help make sure the gaps are filled for entrepreneurs," she said.
Startup Moncton also plans to be the voice of local entrepreneurs on the federal stage.
"We go to Ottawa once a year. We do Startup Canada, and if there's any issues, we meet with MPs to talk about what's working and what's not working. It gives us a voice in Ottawa," Collins said.
Startup Moncton will officially launch on January 18.