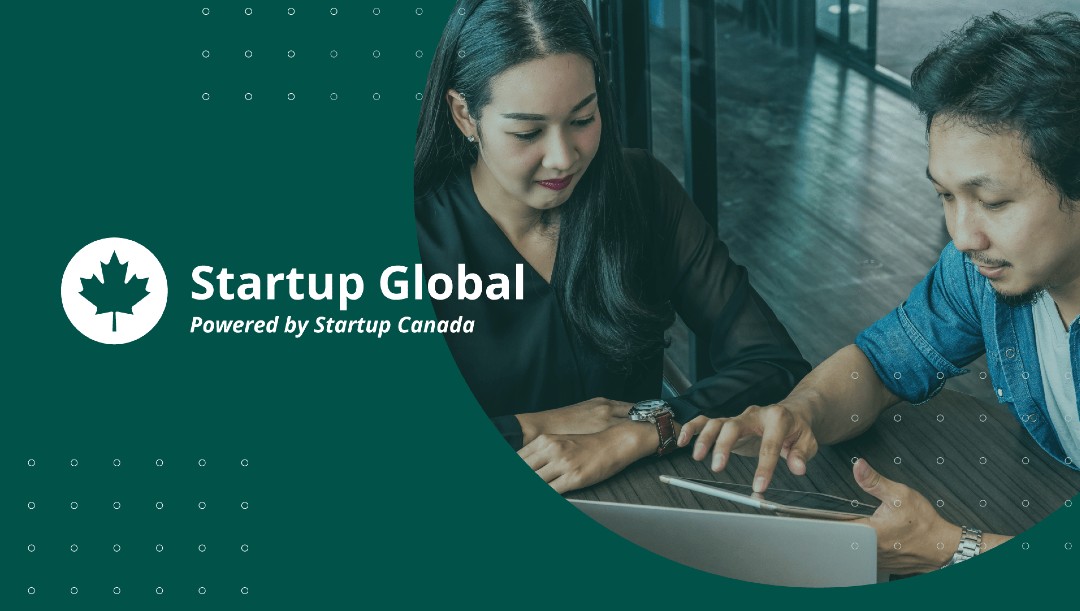 Today Startup Canada formally launched their flagship program Startup Global, previously known as the Canadian Export Challenge. Running from June to October of this year, Startup Global is a series of digital pitch competitions, free professional advising, and educational initiatives meant to recognize the importance of exporting to the Canadian economy, celebrate those making waves in the global marketplace, and empower founders to take their ventures to the international stage.
This year Startup Global is presented in partnership with UPS, the Trade Commissioner Service and Export Development Canada, along with the Office of Small and Medium Enterprises (OSME), FITT, Mastercard, Inniskillin, Scotiabank, and Google Canada. In 2020, the program supported more than 3,400 entrepreneurs across Canada to become export-ready and to connect with Canada's global growth ecosystem. 
New in this year's 2021 programming, is the addition of the Startup Global Portal. The Portal will act as a 'one stop shop' for all things Startup Global, in addition to offering visitors on-demand, downloadable resources to aid in their exporting journey.
In the lead-up to the Grand Finale in October 2021, Startup Canada will be hosting several Bootcamps to support export-readiness. Current Bootcamp topics include: Exporting 101, global financing, and guidance on mastering a pitch.
In addition to educational bootcamps is free, one-on-one expert advising. Provided through the Mentorly platform, the one-on-one advisory sessions are intended to provide globally aspiring and operating entrepreneurs with direct access to industry and subject matter experts, fellow entrepreneurs, and private/public sector partners across the country.
Startup Global Pitch Competition
The Startup Global Pitch Competition will give Canadian founders – those just starting out and those ready to grow an existing business – the chance to win from a total prize pool of $75,000 and $100,000 in in-kind support.
Competitors who are selected for the semi-finals in September will have the chance to win $5,000 (scale-up category) or $2,500 (startup category). From there, the top 5 startups and top 5 scale-ups will be announced on September 24th and will be invited to pitch in the Grand Finale in October for a chance to win up to an additional $25,000 (scale-up category) or $5,000 (startup category), and up to $100,000 in in-kind scaling support.
Those interested in competing are encouraged to submit their pitch application in the "Apply to Pitch" section of the portal. Quick and easy to follow, the application process consists of a short questionnaire and uploading a maximum 10 slide pitch deck. Applications will be accepted from July 1st to September 1st.
"Thank you to everyone who pulled together this incredible event. From the Regional Events to the Grand Finale, this experience has been fantastic and I would highly encourage all founders to participate next time! The Canadian Export Challenge has been a great platform to continue to share NanoTess' story and raise awareness for our cause," said Megan Leslie, Co-Founder of Nanotess and grand finale scale-up winner of CXC 2020. "My team and I are honoured to have won the scale-up competition and excited to continue building and growing NanoTess."
To learn more about the Startup Global Pitch Competition, and how to apply, click here.
"Over the past four years, Startup Global has helped thousands of entrepreneurs and SMEs bring their ideas, services, and solutions to the global stage," said the Honourable Mary Ng, Minister of Small Business, Export Promotion and International Trade. "Now, as Canada and the world heads into recovery from COVID-19, this is the exact type of ambition that will help us build a better future–one that is more inclusive, more sustainable, and built on Made-in-Canada innovations."
"The past 15 months have been incredibly difficult for small businesses and entrepreneurs across the country," said Kayla Isabelle, CEO of Startup Canada. "By tapping into the global marketplace, Canadian ventures can bolster their brand presence,  expand customer bases, and diversify supply chains – assisting founders to mitigate potential risks the pandemic has posed. The Startup Canada team has been hard at work planning Startup Global 2021, and we couldn't be more proud to share it with our network."
"For the fourth consecutive year, Export Development Canada (EDC) is pleased to partner with Startup Canada to promote Startup Global 2021, an initiative that supports thousands of entrepreneurs across Canada," said Mairead Lavery, President and CEO, EDC. "Our purpose is to help Canadian businesses throughout their export journey, which is a key ingredient to business growth in today's global marketplace. Partnerships like this are instrumental to equipping Canadian companies with the expertise, resources and support they need to succeed on the world stage and we're happy to be part of it alongside our trade ecosystem partners."
"We are excited to partner with Startup Canada once again to support Startup Global," said Paul Gaspar, Director of Small Business at UPS Canada. "We feel that it's very important to learn, share and acknowledge how businesses have continued to sustain themselves and grow, by selling their products in markets beyond Canada, as examples for other businesses. The last year has shown that the Canadian entrepreneurial community is resilient as they continue to support and mentor each other."
"The TCS – Canada's Trade Commissioner Service – has a network of business development experts in over 160 cities worldwide to help small and medium-sized businesses from all sectors accelerate their growth globally and minimize risk with funding and services," said Sara Wilshaw, Canada's Chief Trade Commissioner. "We aim to equip businesses with the information and resources they need to succeed abroad and thrive in the post-pandemic economic recovery. As we enter the fourth year of our collaboration with Startup Canada, we aim to go even further to help entrepreneurs and exporters from all regions of Canada to continue to explore new markets around the world."
All Startup Global events and resources are free for all Canadian entrepreneurs, and those interested in learning more about Canada's vibrant export ecosystem. Access the portal, and explore all Startup Global has to offer, at www.startupcan.ca/startup-global.
For more information, and to schedule interviews, please contact:
Lauren Hicks
Media Relations, Startup Canada
(905) 531-1670
lauren.hicks@startupcan.ca
About Startup Canada
Startup Canada is the gateway to Canada's entrepreneurial ecosystem. We're here to connect entrepreneurs with the support, community, and tools they need to build a successful business in Canada. Since our inception in 2012, Startup Canada has grown to represent more than 250,000 entrepreneurs and an ever-growing grassroots community network from coast to coast to coast. Through our flagship and digital programs, we provide guidance, eliminate barriers, and champion the needs of each and every entrepreneur to private and public sector partners. Startup Canada supports entrepreneurs in starting up and scaling up to ultimately make Canada the best place to start and build a business.
About UPS
UPS (NYSE: UPS) is a global leader in logistics, offering a broad range of solutions including transporting packages and freight; facilitating international trade, and deploying advanced technology to more efficiently manage the world of business. Headquartered in Atlanta, UPS serves more than 220 countries and territories worldwide. The company can be found on the web at ups.com. To get UPS news directly, follow @UPS_Canada on Twitter.
About EDC
Export Development Canada (EDC) is a financial Crown corporation dedicated to helping Canadian companies of all sizes succeed on the world stage. As international risk experts, we equip Canadian companies with the tools they need – the trade knowledge, financing solutions, equity, insurance, and connections – to grow their business with confidence. Underlying all our support is a commitment to sustainable and responsible business. To help Canadian businesses facing extreme financial challenges brought on by the global response to COVID-19, the Government of Canada has expanded EDC's domestic capabilities until December 31, 2021. This broader mandate will enable EDC to expand its support to companies focused domestically. For more information and to learn how we can help your company, call us at 1-800-229-0575 or visit www.edc.ca.
About Canada's Trade Commissioner Service
Canada's Trade Commissioner Service (TCS) helps Canadian entrepreneurs and their companies successfully sell their products and services abroad through its funding and support programs and network of trade commissioners in over 160 cities worldwide. With over 125 years of expertise and more than 1,000 trade commissioners across Canada and around the world, we can help you prepare for international markets, assess potential for specific international markets, find vetted business contacts, resolve business problems, and navigate the benefits of free trade agreements. Visit the TCS website for insight and free resources to help you tap into new markets. You can also register for MyTCS to receive updates on TCS funding, support programs and tools, as well as upcoming trade events and webinars that match your interests. Stay connected with us on Facebook, Twitter, and LinkedIn.