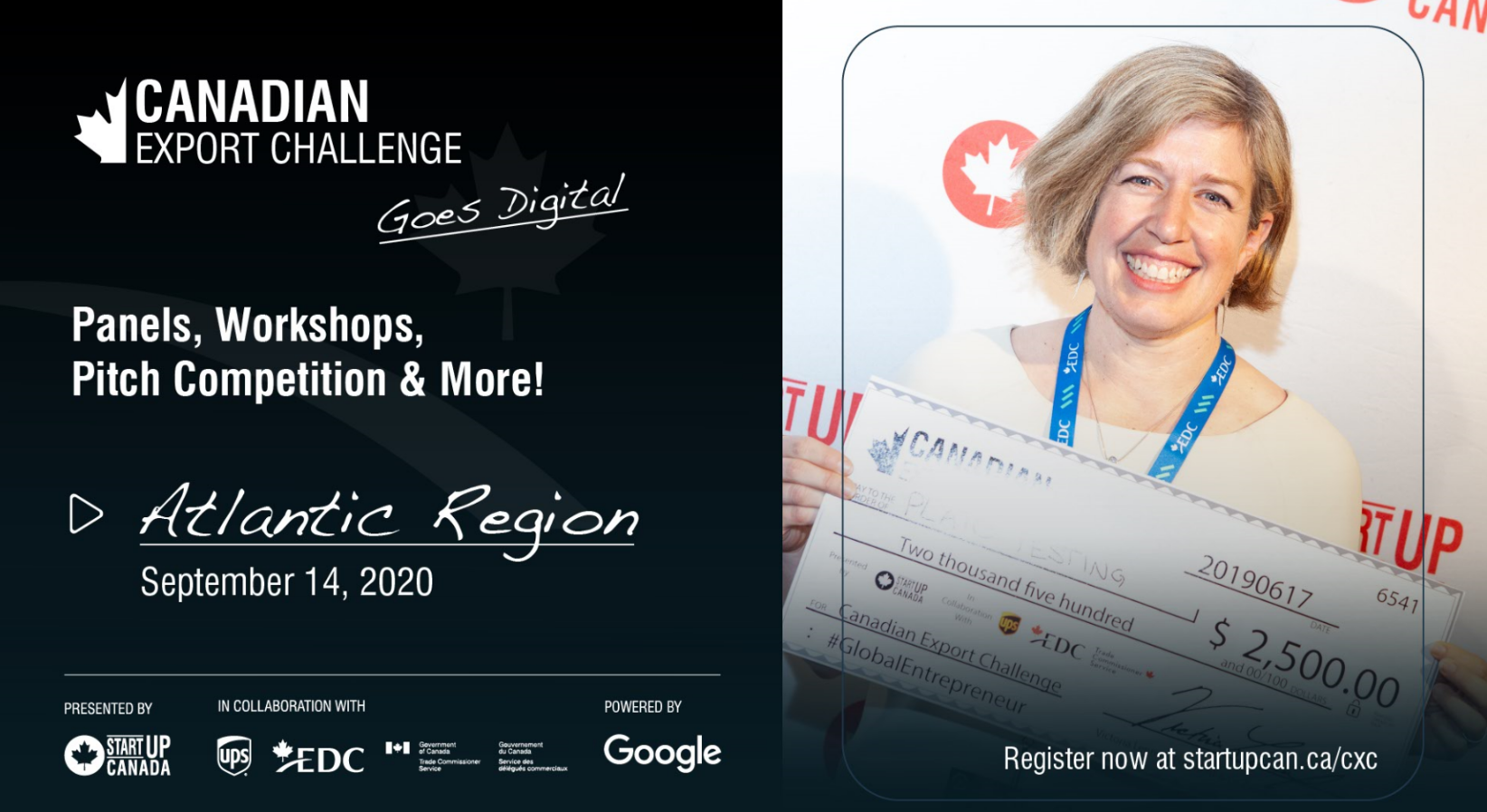 It's time to take your business to the next level with #CXC2020.
Looking to enter new markets, but now sure where to begin?
The 2020 Canadian Export Challenge is the first nationwide, fully-digital pitch competition for Canadian entrepreneurs looking to go global. This year applicants can apply online, and submit their first-round pitch through a 90 second video.
This September, regional entrepreneurs will be pitching to win $5,000 (scale-up category), $2,500 (startup category), and a chance to win up to $25,000 and up to an additional $100,000 in in-kind scaling support at the Grand Finale in October.
Here's an exclusive look at some of the entrepreneurs you'll hear from across the 5 regional events:
WHAT IS A ONE-DAY GLOBAL ACCELERATOR?
A one-day Global Accelerator is an event designed to get your company export-ready! There will be workshops, panels, and keynotes from industry experts—and opportunities to connect one-on-one with Canada's global expansion support providers and gain privileged access to trade information, market intelligence, global accelerators, and more!
Each regional event also has two pitch competitions—one for startups and one for scale-ups. Competing entrepreneurs have the opportunity to pitch to win $2,500 (startup category) and $5,000 (scale-up category). 
Winners from each region will move onto the CXC Grand Finale in October. There, they will compete again for a chance to win up to $25,000 cash and up to $100,000 in support.
Even if you don't intend to pitch, CXC is a great opportunity for companies to network with members of Canada's entrepreneurial and export ecosystems. 
In short, if you're interested in going global with your business—CXC is for you! 
GOING DIGITAL
COVID-19 has put entrepreneurs across the globe in an unprecedented position of uncertainty. Given border closures and the international response to this pandemic, the export community is navigating uncharted territory. 
This year, in addition to its historical elements, CXC will aim to be a space for Canadian exporters and industry partners to come together and provide support to each other, as we all navigate the resulting export environment. 
In the leadup to CXC in September, we'll be hosting a series of digital bootcamps with our partners to help entrepreneurs get export-ready and learn how to craft a perfect video pitch.   
This fall's regional events will combine a series of live stream presentations, breakout sessions, a virtual growth lounge, interactive learning—in addition to a digital pitch competition. 
We're excited to bring you Canada's first nationwide, virtual pitch competition. In the past, we've been limited by geography. In this digital format, we hope to be able to reach entrepreneurs from all across Canada.
REGIONAL DIGITAL EVENTS
From September 14th to September 21st, 2020, we will host 5 regional digital events: